How to Care for Your Shower

Installation
Our number one concern is safety. Every one of our enclosures is made with safety material approved under the Safety Glazing Material Act, ANSI Z97.1-1971. The Act requires safety glazing materials in all "Hazardous Locations", and specifically refers to shower doors and tub enclosures as such locations. All of our enclosures are mechanically fastened to the shower surrounds and are caulked with clear or white silicone.
First Use
To ensure that all caulking has cured properly and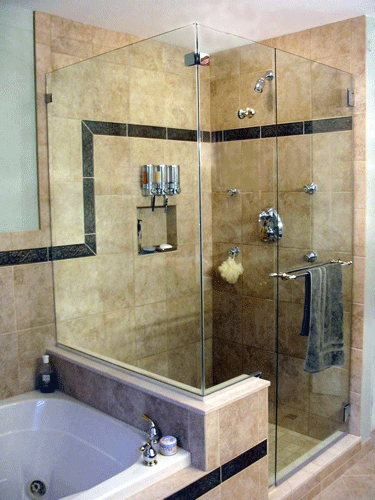 sufficiently, we strongly urge you to avoid using or cleaning the enclosure for a minimum of 24 hours after installation. Please do not touch the caulking, get it wet or attempt to wipe it or nearby areas, as this may create gaps in the caulk barrier that may cause leaks.
Leaks
Please remember that no shower enclosure is water proof. The smaller your shower surround and the closer the shower head is to any moving parts such as swing doors or moving panels, the greater the chance that water will find its way out, over and around such moving parts. Small amounts of water may also end up on the floor when swing doors with drip pans are opened. All glass entrances are even more likely to leak because there are no overlapping gasketed joints to prevent the water from finding its way out of the enclosure. Should you have any problem, please do not hesitate to contact us. We will do everything within reason to eliminate any leak.
Care
The best way to maintain the your enclosure is to wipe it down after every use. We recommend that you wipe it down with a soft non-abrasive cloth or squeegee to clean off excess water. Make sure to dry the glass and metal thoroughly. We also recommend that you periodically apply, after a thorough cleaning, a soft car wax or "Invisible Shield", to the glass, framing and hardware on your enclosure. ("Invisible Shield" is a clear sealer that we sell which is manufactured by Unelko, the same company that makes Rain-X for car windshields). Make sure not to get any wax on the floor of your shower surround. These precautions will help to reduce the possibility of water stains and hard water build up as chemicals in your water supply may eat into the glass, framing and hardware. You should also periodically check any drain holes at the interior of the enclosure to make sure they are unobstructed. If they become obstructed, water may overflow to the outside. Also try to keep your shower surround well ventilated to reduce the growth of mildew.
Cleaning
If you do not wipe down the enclosure after every use, a weekly cleaning is strongly suggested. Your simplest, safest and preferred method of cleaning your shower enclosure is by washing it with warm clean water and drying it with a soft non-abrasive cloth. If soil is still present after drying, Use a mild soap and warm water mixture, mixing a couple of drops of mild liquid soap into a cup of warm water. Using a soft non-abrasive cloth, clean the enclosure and then rinse it thoroughly with clean warm water and dry. The Bath Enclosure Manufacturer's Association (BEMA) recommends a non-abrasive cleanser with a pH of seven to eight. Comet Bathroom cleaner has been tested and is recommended by BEMA. WARNING: Never use any acid or alkali "clean up" solutions or other cleaners that contain abrasives, acids, or alkali; do not use sharp instruments, scouring pads, dirty or gritty rags, powdered cleanser, steel wool or any other type of abrasive. Some of our shower components may be coated with a clear lacquer that will be irreparably damaged if subjected to abrasive chemicals and/or scrubbing devices. Neglecting or ignoring the basic rules of maintenance will result in your enclosure not living up to it's potential long life.
These simple suggestions will help you keep your new shower enclosure bright and beautiful for many years. Should you have any questions or concerns please contact us. We want you to be satisfied with our work !