Heavy Glass Showers

Heavy glass shower enclosures have become the new standard in bathroom shower design and offer a multitude of design possibilities. Having installed thousands of heavy glass shower enclosures since the early 1990's, we have the expertise and knowledge to guide you through the process.
There are a variety of glass types that may be used for your enclosure. Clear tempered glass is typically the least expensive option and provides an open and spacious feeling, especially when used in smaller bathrooms. Ultra clear low iron glass such as Starphire by PPG provides greater light transmittance and less tint than clear glass. Numerous types of obscure pattern glass are also available. Premium products such as slumped glass from companies like Ultraglas and Nathan Allan Glass provide you the opportunity to create a unique design that is embedded in your glass. Guardian Industries manufacturers a proprietary coating named Showerguard that protects its glass from staining due to water contamination.
You can also look at our Heavy Glass Shower Gallery for possible ideas for your next project.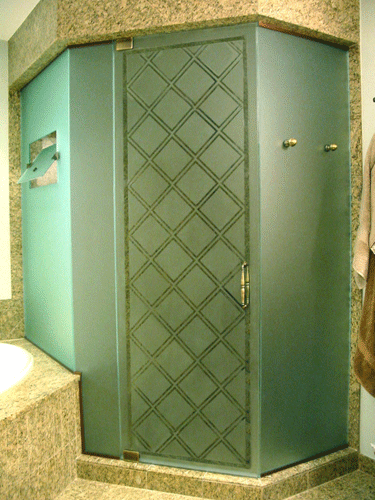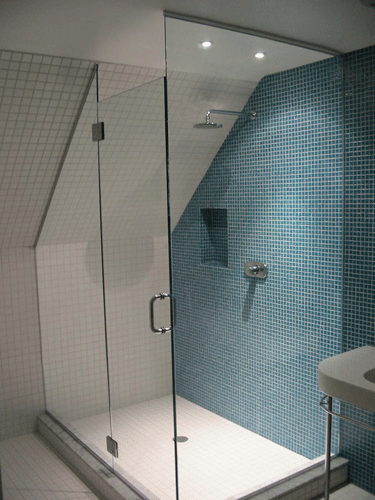 We have a vast array of hardware options available in a multitude of finishes. There are two basic types of hinges to operate your door. Pivot type hinges are mounted at the top and bottom of the door allowing the door to open to almost 180 degrees. Glass-to-wall or glass-to-glass hinges are mounted at the side of the door and allow the door to open 90 degrees. U-channel and/or clamps are used to secure your fixed panels of glass in the shower opening. Transom clamps are used to pivot glass panels allowing steam out of an enclosure. There are numerous handles, knobs, towel bars, robe hooks and other miscellaneous hardware items.
We strictly adhere to the manufacturer's hardware limitations and installation configuration requirements. Check out our gallery for some of the unique enclosures that we have installed. Please check our shower preparation checklist to help you get started.